Héctor Zamora
Memorándum
(Mexico, 2017/2020)
Augmented Reality installation

Location: virtual environment (part of AR city tour)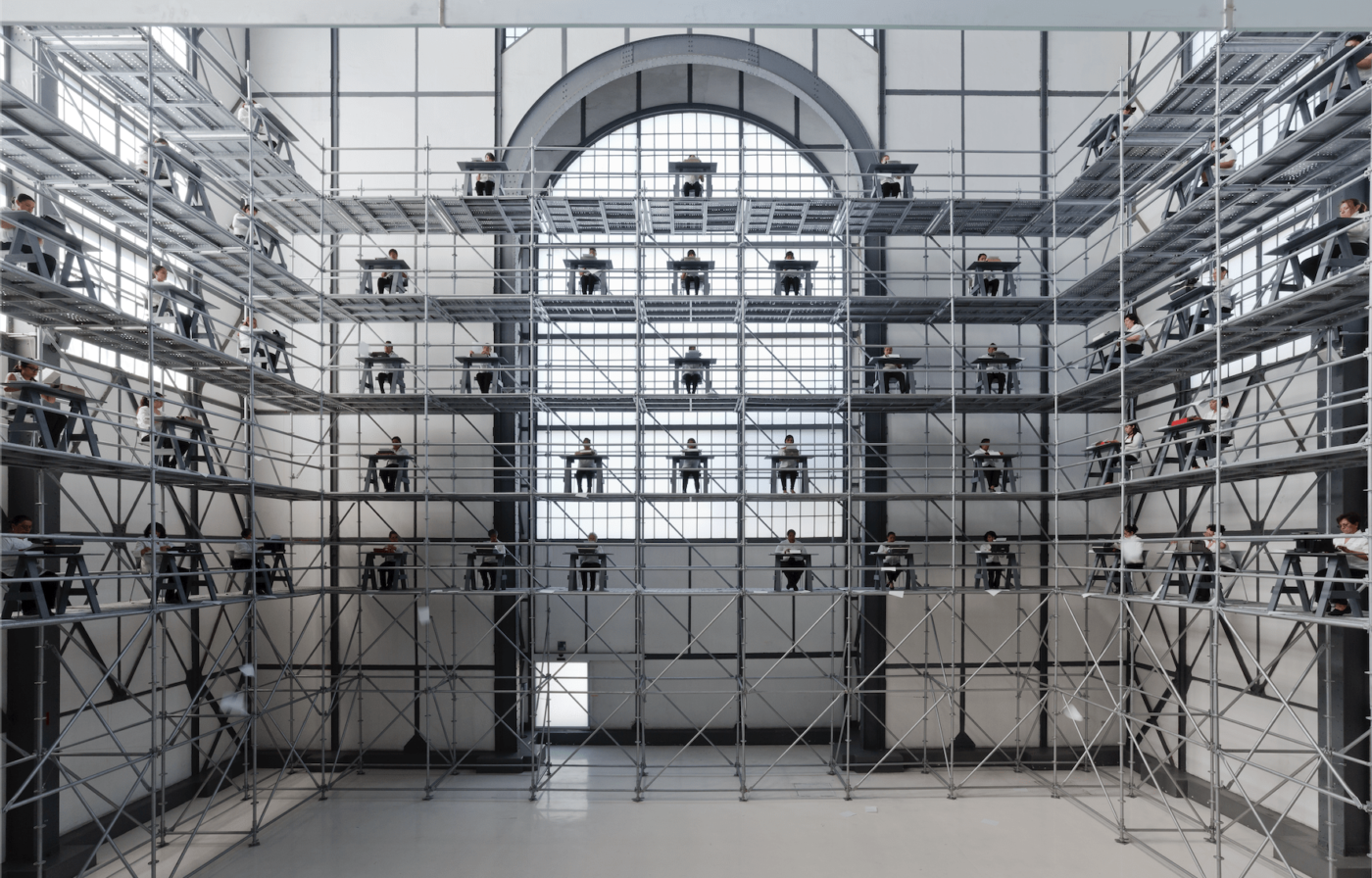 In Memorándum Zamora merges special characteristics of the building with a mechanical activity, generally associated with the female gender. Zamora critically refers to the functioning of global governmental, bureaucratic and institutional systems of power and points to the role of the secretary in the misogynist, capitalist workforce. Subjugation and invisibility of the female role are subverted by the artist in a type of homage-action that establishes participants as the sole presence during the action, while they weave a self-referential narrative as they type their own biographies. The constructive, visual and sound elements of Memorándum refer to assembly plants, factories and workshops.
Within the context of (IM)POSSIBLE BODIES, not only women but all human beings become subjugated by the new rules of technology. With Memorándum we mourn what has been lost while also recognizing how have always been merged with machines, becoming cyborgs.
You can view this work in our virtual environment and the AR City Tour.
Audience: All ages
Accessible for people with hearing and visual impairments.
Credits
Performers: Alejandra Melo Cerón, Ana Karen López Serrano, Ana Laura Aguilar Villanueva, Ana Xhumali Alcantara Ramírez, Ariana Estela Gudiño Cuéllar, Bertha Susana Cárdenas Moreno, Brenda Couttolenc Espinosa, Citlali Bejarano Castro, Dinehi Sánchez Vergara, Elizabeth Ramos Rojas, Génesis Galeana Radilla, Guadalupe García Carrillo, Guadalupe Gaspar Dominguez, Guadalupe Pacheco Moises, Guadalupe Yuritzy Vargas Flores, Irma Araceli Camacho González, Jazmín Flores Nieto, Kiara Stevealiz Chavarría Alcocer, Liduvina Castillo, Lourdes I. Romero Rico, Ma. Espinoza Valdez, María Concepcion Said Olvera, María De Lourdes Ramos Pichardo, María del Rosario Flores Salinas, María Del Rosario Salinas Jasso, María Esther Martínez Ramos, María Eugenia Palomar Villagrán, María Leonor Hernández Ríos, Mariana Cuevas Uribe, Mariana Hernández Moguel, Martha Perez Huerta, Miriam Mariel Montaño Coron, Nancy Lucero Acosta Espadin, Nayeli García Gonzalez, Noemi Rosalía Tecalco Ríos, Nora Angélica Rivera Becerra, Perla Elizabeth Cárdenas Moreno, Rebeca Paz Chassin, Reyna Sampedro Cruz, Rocío Janett Moreno López, Rosa Elena Jaramillo Hernández, Salma Jocabed De La Vega Arenas, Silvia Alejandra Rodríguez Soto, Vania Elizabeth Caballero Aguilar, Verónica Melchor Ibarra, Ximena Acosta Cárdenas, Yamileth Galeana Radilla, Yolanda García
Co-produced with Museo Universitario del Chopo, UNAM
Courtesy of Museo Universitario del Chopo